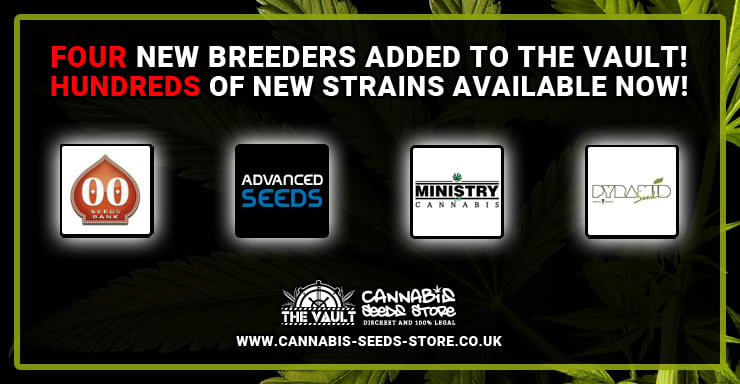 At The Vault, we're always keen to expand our selection of high quality genetics: Usually, that means keeping fully up to date with our established line-up of breeders for their latest hot new releases, but every now and then, we reach out to breeders who are not yet on our roster, but who have already registered on our radar…
After a careful selection process, The Vault is proud to announce the arrival of four brand new breeders, each of whom comes with a mind-blowing selection of awesome strains that are ready and waiting to be added to your collection!
Let's take a closer look at these four amazing new breeders:
Despite maintaining a relatively low-profile in the cannabis seed collecting world, this incredible Spanish breeder has nonetheless carved a niche for itself as a purveyor of supreme quality genetics.
Whichever strain you pick from this tip-top breeder, you'll not be disappointed – however, some of their most popular varieties include:
Chocolate Kush: A supreme Indica cross featuring genetics from the legendary Mazar strain for stunning power, great yields and a flowering time of as little as 56 days.
00 Cheese: A pungent, resinous beauty with classic cheese undertones: Delightful.
Caramel Kush: This blend of Kosher Kush and 00's signature Indica strain produces a deliciously sweet flavour, a potent kick and masses of resin.
Another amazing breeder hailing from sunny Spain, Advanced Seeds is known for their all-natural, purely organic breeding methods, which result in some truly top-notch strains without the use of any nasty adulterants.
Some of Advanced Seeds' most popular strains include:
Auto Biodiesel Mass: This AutoCritical x AutoDiesel mashup has resulted in a strain which produces a deep, potent diesel fuel aroma and massive quantities of resin.
Auto Kaya 47: An autoflowering, extremely hardy and flavoursome strain, this one is great for beginners looking for an easy-going, yet generous yielding variety.
Auto Sweet Dwarf: A dense, compact little guerrilla-style strain, Auto Sweet Dwarf goes from seed to harvest in as little as 60 days.
The founders of this amazing international (They are Netherlands and Spain based) firm all bring years of experience to the table, meaning that the strains they produce are of the very best possible quality. The Ministry of Cannabis' main goals are to preserve classic genetics in feminised form, whilst developing bold new strains in tandem.
Some of Ministry of Cannabis' most popular strains include:
Early XXX: As the result of an extensive selective breeding programme which included many top-quality Skunks, Early XXX thrives in virtually all climates, producing mega yields in super-quick time, with the classic Skunk taste and flavour.
Carnival: This amazing strain is appropriately named: It's a real festival for the mind, thanks to its whopping THC level and a Sativa-heavy buzz.
Autopilot XXL: This Indica-dominant powerhouse produces heavy-hitting effects and a delicious musky, peppery and herbal aroma.
This incredible Spanish breeder takes pride in the quality of its strains, which have been specially cultivated for maximum flavour, yield and quality. Many varieties which they have produced are considered to be high-grade medicinal strains which should please all medically-minded collectors.
Some of Pyramid Seeds' most popular varieties include:
Anesthesia: A cross between Northern Lights and Black Domina, this strain produces a deeply relaxing, Indica-influenced stone, a rich delicious flavour and densely resinous yields.
Galaxy: Combining Afghani with Northern Lights, this variety will blow your mind away to another world with its very high THC level and its deliciously minty flavour.
Shark: By crossing Super Skunk with Northern Lights, the resulting Shark was created. Featuring a delightfully sweet flavour, its aromatic, densely resinous buds will not disappoint.