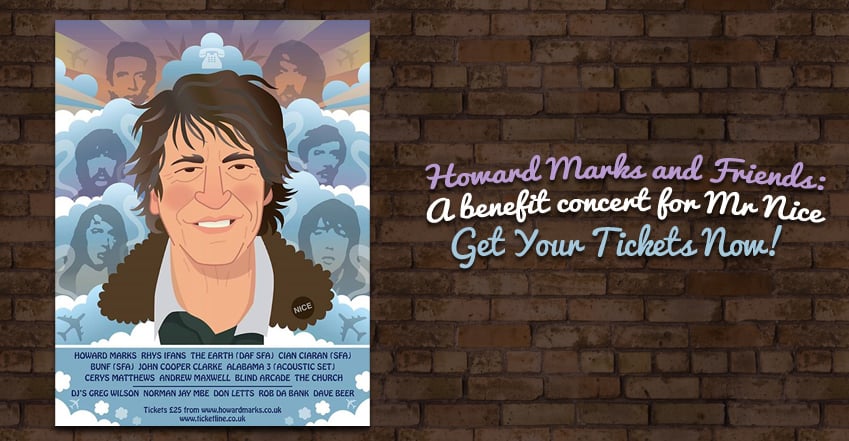 Last autumn, Howard Marks – A.K.A. 'Mister Nice', the legendary counter-culture icon and best-selling author, was diagnosed with inoperable bowel cancer, which has since spread to his lungs and liver. Despite being hit with this terrible diagnosis, Howard continues to relentlessly campaign for the legalisation of cannabis. In these challenging times, Howard remains as strong an advocate for free speech as ever – and he continues to be an inspiration for many people all over the world today.
Since Howard went public about his medical condition, a legion of loved ones and devoted fans have rallied together to show their support and appreciation of the living legend; As part of these efforts, a fantastic line-up of artists have grouped together to hold a benefit concert in order to raise funds which will go towards Howard's treatment, as well as the establishment of a charitable trust.
Get your tickets to Howard Marks and Friends now!
This February, get ready for an amazing night of music and entertainment from none other than Mr Marks himself, who will be joined by…
Rhys Ifans
Super Furry Animals
Alabama 3
Cerys Matthews
John Cooper Clarke
Andrew Maxwell
Blind Arcade
The Church
And many more special guests and artists…
This mind-blowing event will be held at The Forum in London's Kentish Town on Friday the 27th of February, 2015 and tickets are selling out fast, so make sure to grab yours here before they run out: Trust us: You'll be kicking yourself if you miss out on this one-night-only spectacular!
Spread the love…
Via Facebook
Head on over to https://www.facebook.com/OfficialMrNice to keep up to date with the latest news and connect with Mr Marks himself: While you are there, don't forget to pay a visit to: https://www.facebook.com/OfficialMrNice/photos/a.244730258898341.67976.220341684670532/828470617190966/?type=1&theater and share the post with your buds to show your support to the man who has worked so hard and sacrificed so much for the global cannabis community.
Via Twitter
Howard's official twitter page is regularly updated and is a great place to connect with Mr Nice: You can send him your messages of love and support there and re tweet his posts to spread the word about all of his activities.
Via Pledge Music
There are loads of great DVDs and Blu-rays, posters, t shirts, signed books, signed extracts, original artwork and other fantastic Mr Nice items available for sale at http://www.pledgemusic.com/projects/howardmarks, so be sure to pop on by there and grab some awesome kit: Highlights include the fascinating new documentary: 'The Real Mr Nice' (available to pre-order now) and an opportunity to have lunch with Howard Marks himself!