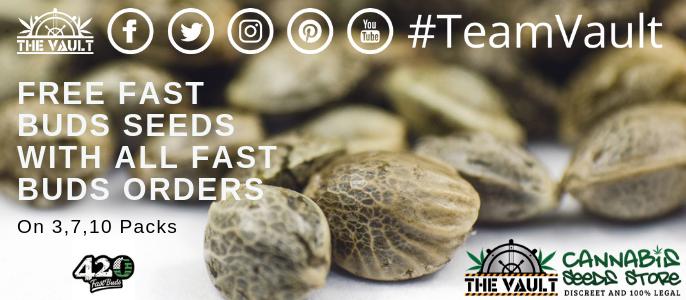 Team Vault are delighted to bring you some cracking news in conjunction with the lovely (and very cool) people at Fast Buds.
Founded in 2010, Fast Buds has set out with one primary goal in mind – To present people with the most fashionable, trendy and superior Autoflowering genetics California has to offer and introduce them to growers around the planet.
FastBuds carefully select the Autoflowering genetics that they consider to be the most promising in existence. They use Canadian Ruderalis and have made great strides in utilizing it while achieving very high THC levels. By only selecting for the primary, desirable phenotypes, FastBuds also achieved very high-yielding plants.
Add to this the fact that they have also selected the wonderfully bright, colorful phenotypes while tediously stabilizing strains so that customers have an unforgettable experience not only from consuming them, but also during cultivation. The product line offers exotic-looking strains that display shades of pink to the darkest purples when exposed to low temperatures.
Sound good to you? Great! Here's the dealio…
FREE Premium Quality Seeds with Every Pack of 3, 5 or 10 Pack Purchased!

Whether you are already an avid FastBuds collector or if you have yet to sample their delightful range of seeds, there has never been a better time to add some of their beautiful strains to your collection – because this time you'll get FREE seeds with every 3, 5 or 10 pack!
It's all pretty simple, but here's the detail!

Buy any 3 pack of FastBuds seeds, get 1 x FREE Girl Scout Crack
Buy any 5 pack of FastBuds seeds, get 2 x FREE Girl Scout Crack Seeds
Buy any 10 pack of FastBuds seeds, get 3 x FREE Girl Scout Crack Seeds
Remember: This offer is on top of all the other amazing freebies and special deals you'll get as a Vault Customer! Not bad, is it Bud?
About the bonus seeds: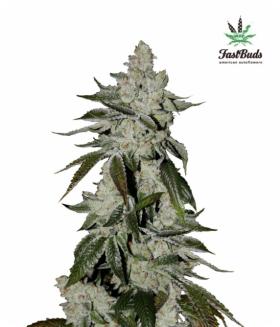 The Girl Scout Cookies variety is bona fide high-quality marijuana. It is without a doubt the best Californian strain of all time. Currently Girl Scout Cookies has a large number of fans throughout the United States West Coast, and is going strong in Europe, Eastern Europe and Asia. FastBuds have managed to recreate an auto flower that does the original GSC justice.
Celebratory Promo

To celebrate this promo, we are going to offer up x2 10 packs of Girl Scout Cookies Cannabis Seeds from Fast Buds. You can enter the promo by writing 'FastBuds' in the comments of this blog post below.
The promo will close on the 19th December at midnight UK time, and the two winners will be announced in the afternoon of the day after. Good Luck.
Fast Buds Apparel

We'd like to give a shoutout to Fast Buds Apparel – we reckon you should give their Facebook page a follow if you want to stay ahead of the Canna Fashion game https://www.facebook.com/fastbudsapparel/
Head over to our seedbank now!
Now that you've found out all about the amazing FREE FastBuds Seeds Offer that you'll get with select quantities 3 or 5 packs, why not head on over to our Fast Buds Section section and pick some seeds up today?
Make sure you never miss another Vault promo – sign up for our newsletter at http://goo.gl/Bt2Ba2
Legal disclaimer: The competition winners will have their prizes sent to them via recorded delivery. If you are chosen as a winner but don't receive your prize, we cannot resend competition prizes, so you'll have to raise this with your local delivery service (In the UK, for example, this would be Royal Mail).
Remember: It's illegal to germinate cannabis seeds in many countries. It is our duty to inform you of this important fact and to urge you to obey all of your local laws. The Vault only ever sells or sends out seeds, or seed voucher prizes for souvenir, collection or novelty purposes.
#TEAMVAULT