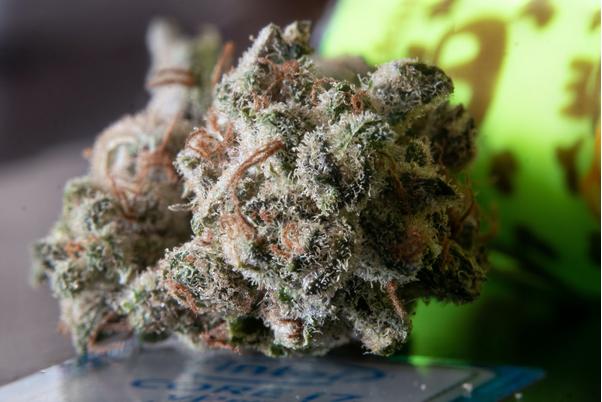 This year has been historically horrifying, that is something I'm sure we can all agree on. This is why we felt it would be nice to gather together the world's most calming, relaxing strains to try and work out some of that stress and sense of impending doom. Indica strains are best known for being excellent evening and bedtime strains. They are also perfect for lazy days on the couch and for medical patients that struggle with anxiety, pain, depression and insomnia. All of these strains are packed with chill goodness and are perfect for dealing with whatever this year decides to throw at us next.
This classic should appear on every single list of top Indica strains. It is well known for its phenomenally relaxing effects and is considered one of the best Indica cannabis strains in the world. When this strain was first created it completely changed the world of genetics as we know it. There are many different varieties of the original, all of which have inherited the sheer quality of their NL parent plants. The plants are quite small which makes them perfect for indoor growing. They are also extremely vigorous and will produce massive yields of extremely sticky and resinous buds. The effect is comfortable but sleepy, the perfect strain for anyone who is too stressed to get a decent night's sleep.
This strain is just as delicious as it sounds and is perfect for relaxing after trying to watch the news again. Indica Cream is 100% Indica and has a THC content of 20%. Even the highs induced by this strain are creamy, a perfectly buttery smooth chill that is wonderful for just lying back and enjoying the remaining good aspects of the world. This strain is ideal for those who just want a touch of escapism, a miniature cosmic journey off this planet and out into the calming nothingness. This strain is quite tall and does tend to do better outdoors. It also produces massive yields of up to 600g/plant and is definitely an Indica made for 2020.
Hindu Kush, as one might expect, comes from the Hindu mountain range. This little lady had her big debut in the 60s, when relaxation was certainly the order of the day. She quickly became one of the main modern breeding strains, creating wonderful children that have spread all over the world. This is definitely a strain for those who are feeling depressed, so basically everyone. The effect is extremely uplifting and happy with just a hint of chill and the melting of cares. The flavours are extremely hashy, perfect for anyone who prefers a classic vibe. This strain is fast flowering and easy to grow, it is also extremely vigorous and will produce impressive yields.
This beautiful and heavy hybrid has an amazing THC level of 17% and is guaranteed to relax even the tensest muscles. The flavour is both fruity and minty giving it a slightly perkier profile than most Indicas. The effect is extremely cerebral making it perfect for using in tandem with a little light yoga or potentially an evening stroll. Otherwise, it's perfect for sitting on the couch and feeling like your insides are having a lovely warm bath. This strain is also often used as a painkiller and is ideal for anyone who suffers from chronic pain.
Blueberry is another classic Indica strain that has been around for some time now. It is probably one of the worlds most popular Indicas due to its amazing flavour and delightful effect. This strain has been around since the 70s and has tested as high as 24% for THC levels. For smokers looking for something to knock them sideways into a lovely pool or relaxation and calm, Blueberry is the strain. The flavour of this strain is a combination of fresh blueberries and old school skunk. The buds are completely coated in a frost of resin, and the effect is simultaneously delightfully cerebral and powerfully physical. This strain is best grown outside due to its massive size, but is a vigorous grower and will produce amazing yields in very little time.
This strain is the perfect dessert, right at the end of the day when everything needs to just disappear. She is definitely one of the highest THC strains on the market and provides an amazing cerebral high. She is often used for those who are suffering from nausea, insomnia, and stress. The scent and flavour are a combination of chocolate, mint and a lovely soft earthiness that just brings the relaxation home. Afterwards, there is just a tiny hint of pepper and spice that rounds the whole thing off. This is another super uplifting strain that not only brings relaxation but uplifted happiness that is pretty rare at the moment. This strain is high yielding, fast-growing and extremely powerful. Definitely a perfect Indica for 2020.
Last but certainly not least we have the wonderful, world renowned Bubba Kush. This strain was born in the 1990s and has been one of the most popular Indica strains since. She quickly became the base for a number of other Bubba babies, all of which are extremely sought after. The flavours and scents of the strain are hashy with a hint of sweetness. The primary effect is extremely soporific and will work perfectly for just knocking oneself out of an evening, definitely not a daytime strain. For anyone suffering from stress nightmares, this is the perfect plant. Bubba Kush grows well indoors and outdoors making it ideal for all kinds of growers. She also provides some seriously impressive yields, usually around 500 g/m2 indoors and 600 – 800 g/plant when grown outdoors.
These strains all have their own individual talents, but all of them are ideal for the many of us who are stressed out, exhausted, depressed, anxious and basically any of the other myriads of negative emotions brought on by this insanely tumultuous year.
The Vault Cannabis Seed Store
Why not head on over to The Vault Cannabis Seeds Store and pick up some cannabis seeds now, whilst taking advantage of the discount codes VAULT15 for 15% of your order total and don't forget to check out our discount cannabis seeds page for all the latest offers, promos and competitions!

Make sure you never miss another Vault promo and sign up for our newsletter at https://www.cannabis-seeds-store.co.uk/the-vault-newsletter
Remember: It is illegal to germinate cannabis seeds in many countries including the UK.  It is our duty to inform you of this fact and to urge you to obey all of your local laws to the letter.  The Vault only ever sells or sends out seeds for souvenir, collection or novelty purposes.