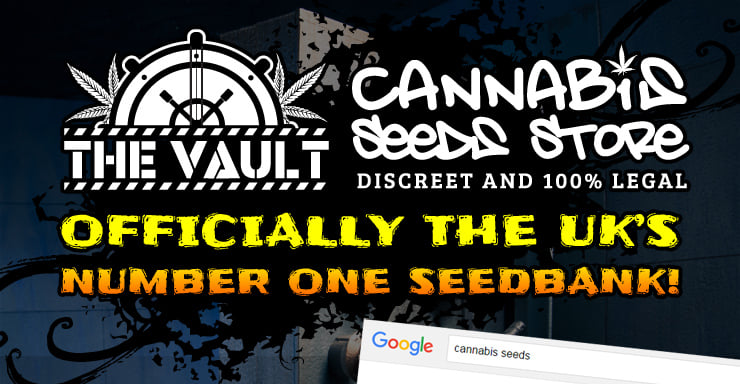 The Vault's customers have always known that we are the UK's numero uno seedbank: And that's because we always put our customers first… but if you are new to the wonderful world of The Vault, there's a very good chance that you found us by doing a quick search online…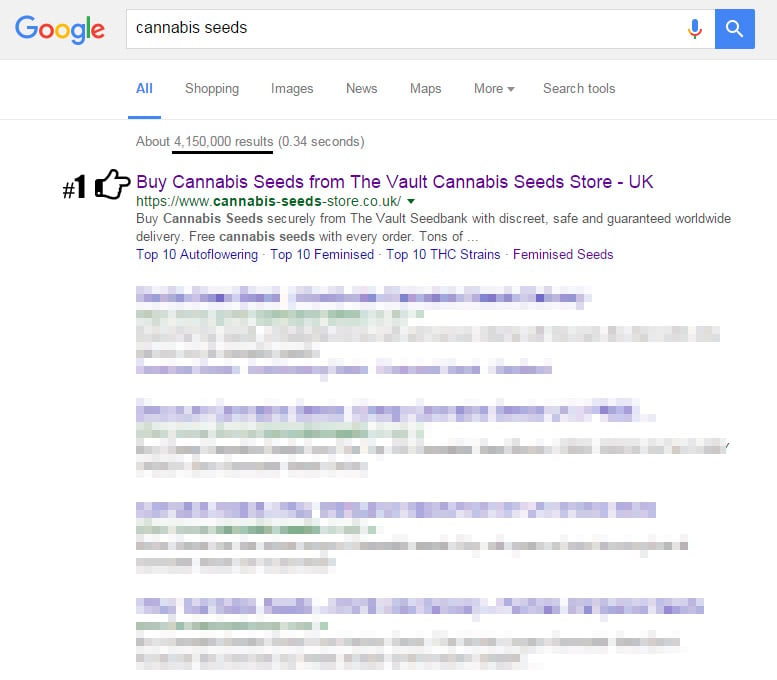 We're Google's top pick for 'cannabis seeds'!
When we say that we are the number one seedbank in the UK, don't just take our word for it: Google.co.uk now ranks The Vault Cannabis Seeds Store in position one on the first page of their search results for the key phrase: 'Cannabis Seeds': a term which throws up over 4 million results!
One of Google's co-founders, Larry Page, once described the perfect search engine as a tool which "Understands exactly what you mean and gives you back exactly what you want" – well, if you mean to search for cannabis seeds, you can be sure that The Vault is the best seedbank to give you exactly what you want, in abundance!
We know that it can sometimes be hard to identify a good seedbank with so many available out there in the world today, so we're chuffed to bits that Google now recognises us as the best!  This news means that even more awesome folks will be able to find us and discover what our buddies have known all along: #YouCantFaultTheVault!
We couldn't have done it without your help!
While the added recognition from the world's number one search engine company is a fantastic achievement, we wouldn't be where we are today without all of your help!  Word has spread far and wide from bud to bud about The Vault across many different channels: Every social share, every recommendation, whether face to face or on forums, every activism event attended, every flyer handed out, every t shirt worn and every sticker applied has made a real difference to The Vault's cause, so to each and every one of our buddies out there: Thank you for your support and remember, The Vault will always have your back…
What makes The Vault number one?
1. We're number one because we put our customers first: our fanatical dedication to customer support is simply unparalleled. You can contact The Vault's friendly, helpful customer service team by email, online contact forms, live chat, via phone and through all of the major canna-community forums: We love to help out wherever we can, so don't be scared to get in touch buddy!
2. We offer the best freebie structure in the industry and GUARANTEED worldwide delivery
3. We utilise advanced stealth methods and are experts in ensuring that your order gets to you, safe and sound, ninja-style!
4. We are a real voice for change: Our proactive approach in lobbying for the legalisation of cannabis in the UK is a guiding force in all of our efforts here at The Vault
5. We believe strongly in giving back to the community: Our competitions, promotions and comparative grows are the stuff of legend
6. Our security is top notch: We put a lot of effort into making sure that no one knows anything about what you buy from The Vault: We always keep that a secret between you and us
Represent The Vault!  #TEAMVAULT

The Vault will always have your back buddy – so if you know someone who has yet to join in the fun, be sure to spread the word and hit them up with some good old fashioned word-of-mouth: We made it to the top and we're never gonna stop – but we can only continue to do that with your help!
Make sure you never miss another Vault promo and sign up for our newsletter at http://eepurl.com/U2sFj
Not placed your first order with The Vault yet?  Use discount code FIRST10 for a whopping 10% off in the cart.  Get started with your cannabis seeds order now at www.cannabis-seeds-store.co.uk