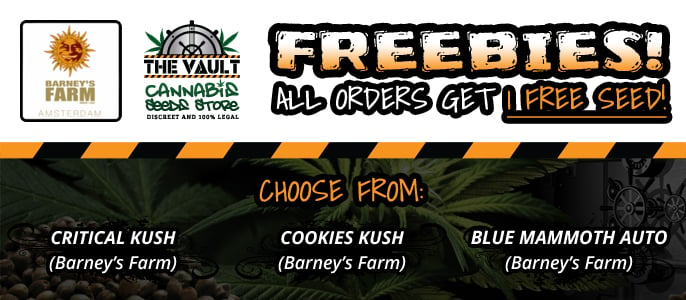 We are super stoked to announce that we have now launched a brand new freebie system at The Vault!  With have added in even more flexibility and choice so you can choose your own freebies from some of the worlds leading breeders at every level.
The more you spend, the more you get, check out the full list of our deals, discounts, free seeds and special offers now here.  In fact spend £200 and get an amazing 13 FREE seeds, all from the top breeders and qualify for free shipping if you spend £100, and that's not even counting the other free seeds triggered by purchases from breeders on The Vault, check out it out now for some unbelievable deals!
We enjoy nothing more than showing some love to our valued customers: It's one of the main reasons that we continue to stay committed to giving away more freebies than any other cannabis seeds site – and also why we make sure that those freebies are not just any old seeds – but some of the best premium seeds on the planet, from the world's finest breeders.
We are very happy to announce that we have negotiated a deal with Barneys Farm to give away a FREE seed with EVERY SINGLE ORDER placed, regardless of the order value.
All orders get a FREE BARNEYS FARM premium seed!
That's right buddy, no matter what you decide to order from The Vault, you'll get to choose between the award winning Critical Kush Feminised, award winning Cookies Kush Feminised and the incredible blueberry / Lowryder #1 cross that is the Blue Mammoth Auto as your additional free seed: The only problem you'll have is to decide which one you'd like best!
About Barneys Farm:

Possibly one of the worlds most renown breeders; Barneys Farm began in the late 1980's high atop the Himalayas.  After spending 3 years cultivating Sativa and Indica based strains one member of the talented group went on to create one of the most prominent cannabis seed production businesses in the world; that business is Barney's Farm and the man who started it all is Derry.
In 1992 Derry went to Amsterdam and took the helm at the legendary Barney's Coffee Shop. They have created some of the worlds most popular and successfully strains winning countless awards along the way.  However, they remain to be one of the most prolific cannabis seeds breeders continuing to create and innovate.
New strains are frequently released, allowing for an ever-increasing audience to continue to enjoy high quality seeds from a company that started, literally, at the top and has remained there ever since.
About the Freebies
To make it easier to decide which freebie floats your boat the most, let's take a look at some specs on these top-notch seeds: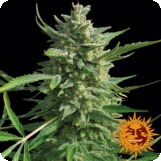 Critical Kush comes from a blend of the famous Critical Mass with Barneys own OG Kush. This is an extremely vigorous and powerful Indica plant which yields huge amounts of strong Kush. You can take pleasure in its sticky feel, crystal covered buds, aromatic scent and don't forget the ultimate knockout stone. This new hybrid is a significant advance in modern marijuana breeding and its Indica dominant nature makes it ideal for relaxation, pain relief and late night smoking. You can expect flowers within 8 weeks from this medium height plant.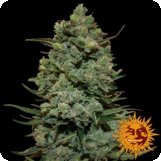 Cookies Kush has quickly become a phenomenon within the cannabis community. This amazing strain was created through crossing Barneys Girl Scout Cookies phenotype with a powerful OG Kush. This project gave incredible results from the beginning, merging the powerful mint chocolate flavour with the amazing smell and taste of Girl Scout Cookies. This strain is very forgiving to difficult conditions and easy to grow. You can expect huge yields in 8 weeks of indoor flowering.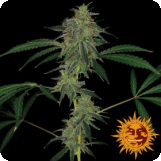 BLUE MAMMOTH AUTO™ is the crossing of a Blueberry Skunk crossed with Barneys own Lowryder #1, to give a dependable and all-round performer. This is one of their top auto flowering strains for connoisseurs and home growers. The BLUE MAMMOTH AUTO™ switches from the vegetation stage through to flowering in 35 days, and yields up to 150 grams per plant in just 75 days. This plant is seriously easy to grow, giving a serene relaxing effect through an amazing Blueberry Indica flavour
Go view the entire Barneys Farm range and get yours now!
Make sure you never miss another Vault promo and sign up for our newsletter at http://eepurl.com/U2sFj
All free seed offers are subject to availability and if we happen to run out of any free seed we will substitute your choice for a similar strain with a similar price range.
Remember: It is illegal to germinate cannabis seeds in many countries; therefore, it is our duty to urge you to obey all of your local laws.  The Vault only ever sells or sends out seeds for souvenir, novelty or collection purposes.