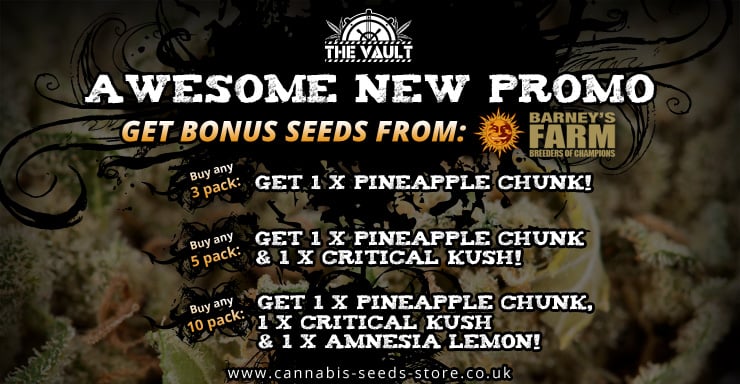 When it comes to cannabis seeds, the team at Barney's Farm really know what they are talking about.  As a recognised world leader in the production of supreme quality seeds, their dedication to producing only the most stable, flawless genetic specimens has earned them numerous international prizes (including over 40 Cannabis Cups in prestigious categories, like 'Best Overall', 'Best Indica', 'Best Sativa', etc.) and a permanent status among seed collecting aficionados all over the world as one of the industry's heavy hitters.
Special Offer! Grab some seeds today
Whether you already have a Barney's Farm section in your stash of seeds, or are yet to take the plunge and pick your very first strain from this multi-award winner, there really hasn't been a better time to do so: Especially now that Barney's Farm are offering a mouth-wateringly juicy promo…
The special offer is as follows:
Buy any 3 pack of Barney's Farm seeds, get 1 x Pineapple Chunk!
Buy any 5 pack of Barney's Farm seeds, get 1 x Pineapple Chunk and 1 x Critical Kush!
Buy any 10 pack of Barney's Farm seeds, get 1 x Pineapple Chunk, 1 x Critical Kush and 1 x Amnesia Lemon!
You will of course still qualify for all of The Vault's other freebies on top!
About the bonus seeds
The bonus seeds that you'll get when you buy select quantities of Barney's Farm seeds are some truly spectacular strains:
Created by crossing Pineapple with Cheese and Skunk #1 genetics, this Indica-heavy strain carries characteristics of all three legendary varieties, with earthy, dank cheese aromas merging with musky, tangy skunk undertones, followed by a lusciously sweet, mouth-watering pineapple aftertaste that will leave your taste-buds tingling, craving more.  As a hardy, mould/disease resistant strain, Pineapple Chunk is popular among beginners and veterans alike, with high yields being possible in even the most challenging conditions.  This strain works mainly on the body, with a heavy-hitting couch-lock stone being its main effect; however, it is known to create a fast-paced cerebral buzz that runs in tandem with the full-body relaxation that it brings on.
As a strain which won Barney's Farm a 1st place cup for Indoors/Hydro category at the Spannabis Champions Cup 2015, Critical Kush is a true superstar!  Created by combining Critical Mass with OG Kush, this robust, highly potent Indica is prodigious when it comes to generating huge clusters of sticky, crystalline buds of aromatic, earthy, spicy Kush!  Perfectly suited for night time use, thanks to its stress-busting, highly relaxing and pain-killing properties, Critical Kush is a variety that no collector should be without!
This insanely delicious strain, created in collaboration with the legendary breeder Soma, went on to win the Cannabis Cup back in 2004 – and collectors everywhere have never stopped talking about it since, it's that good!  Created by blending Amnesia Haze with Lemon Skunk, this variety is potent, highly resilient and incredibly tasty, packing some heavy citrus, musky skunk and earthy, spicy haze flavours into one delicious package.  The high is uplifting and cerebral, with a true feel-good Sativa vibe.
Head over to our seedbank now!
Now that you've found out all about the amazing bonus seeds that you'll get with select quantities of Barney's Farm seeds, why not head on over to our Barney's Farm section and pick some seeds up today? No matter how big or small your collection might be; there is always room for some extra Barney's Farm strains! And remember, if you have any questions, our friendly team is always available to assist you, buddy: Happy picking!
Remember: It's illegal to germinate cannabis seeds in many countries.  It is our duty to inform you of this important fact and to urge you to obey all of your local laws.
#TEAMVAULT
Make sure you never miss another Vault promo and sign up for our newsletter at http://eepurl.com/U2sFj